100% Whey Hydro Isolate PRO SS 2000 g
Discover the purest Xcore Hydrolyzed Whey Protein Isolate, a more concentrated and revolutionary new formula with 89% protein. Purely professional!
Description
Comments (1698)
Best before end:
2022-05-31
Serving size:
1 heaping scoop(s) (32.0 g)
Servings per container:
62
6%
128.40 kcal = 537 kJ
Energy
DigeZyme® Enzyme Blend
32 mg
* Reference intake of an average adult (8400 kJ/ 2000 kcal).
** Reference intake not established.

Ingredients
iXPB PRO (93%) (
Whey Protein Isolate
,
Whey Protein Concentrate
,
Whey Protein Hydrolysate
), Fat-Reduced Cocoa Powder, Flavorings, Sweeteners (Acesulfame K, Sucralose), Emulsifier(s) (Lecithins (Soya)), DigeZyme® Multi-Enzyme Complex (Alpha-Amylase, Neutral Protease, Cellulase, Lactase, Lipase) .
Recommended Daily Serving Take up to 3 servings per day. Instructions: To make one serving, add 1 heaping scoop (32g) of powder to 200-250mL of cold water in a shaker cup or blender. Mix vigorously for a few seconds. Scoop inside container.
Food supplement.
Allergy Alert:
Contains milk and soy. May contain traces of egg and gluten.
Warnings:
With sweeteners. Do not exceed the Recommended Daily Portion. This product should not replace a varied and balanced diet and a healthy lifestyle. Keep out of reach of children. Keep tightly sealed in the original packaging in a cool, dry place and away from direct sunlight.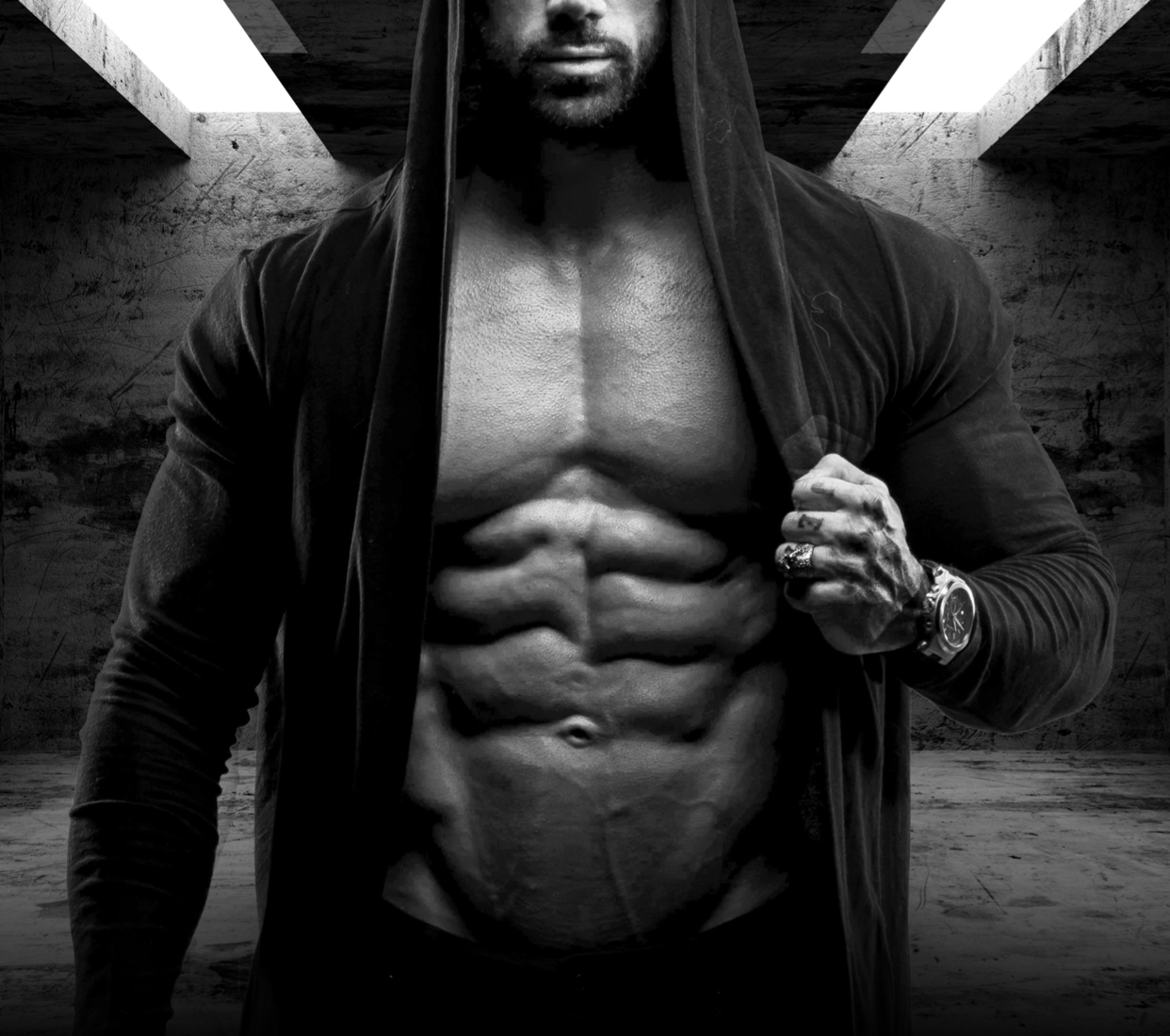 PURELY PROFESSIONAL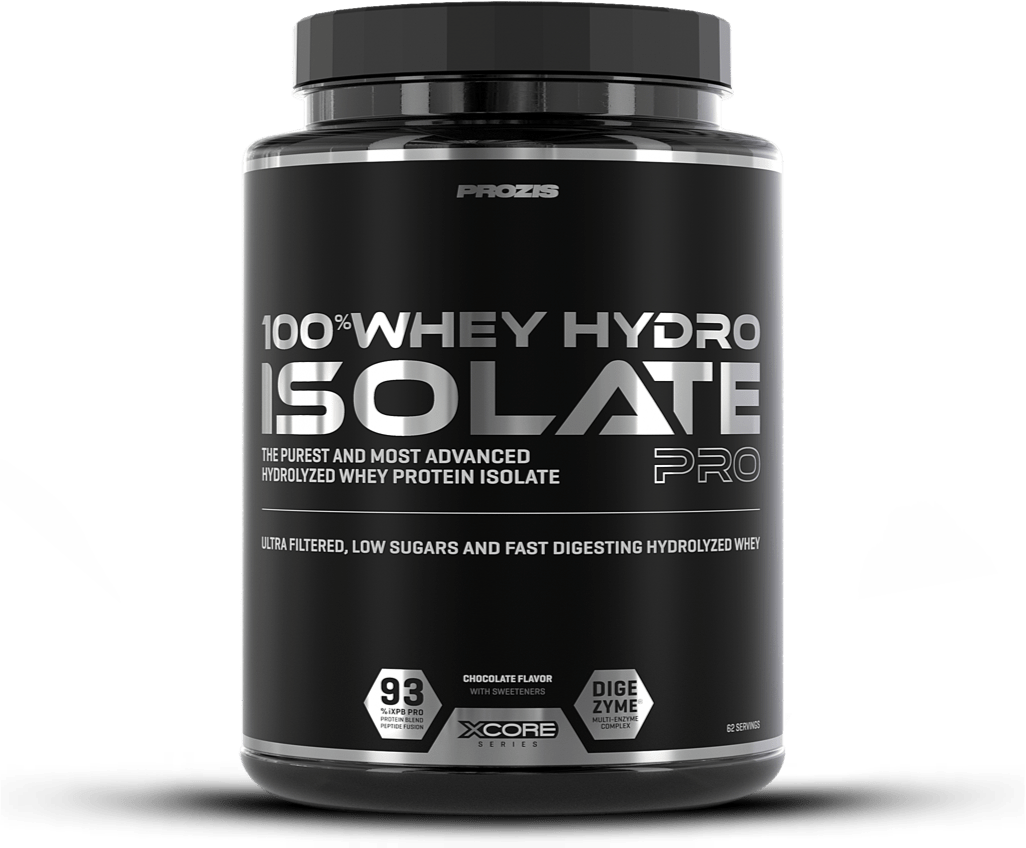 The purest and most advanced Hydrolyzed Whey Protein Isolates with 89%* protein!
And you thought that XCORE 100% Whey Hydro Isolate couldn't surprise you anymore! You could not be further from the truth! The proof is this revolutionary new formula, even more concentrated, that promises to take your training to a much, much higher level.
If you're not ready, don' t even try it!
iXPB PRO
Whey Protein Isolate
Whey Protein Concentrate
Whey Protein Hydrolysate
Enhanced iXPB Process
Like its predecessor, 100% Whey Hydro Isolate has gone through the iXPB process. However, we've gone a little further and added a little extra something to our third step that truly sets it apart from competitors.
But let us describe you this process step by step: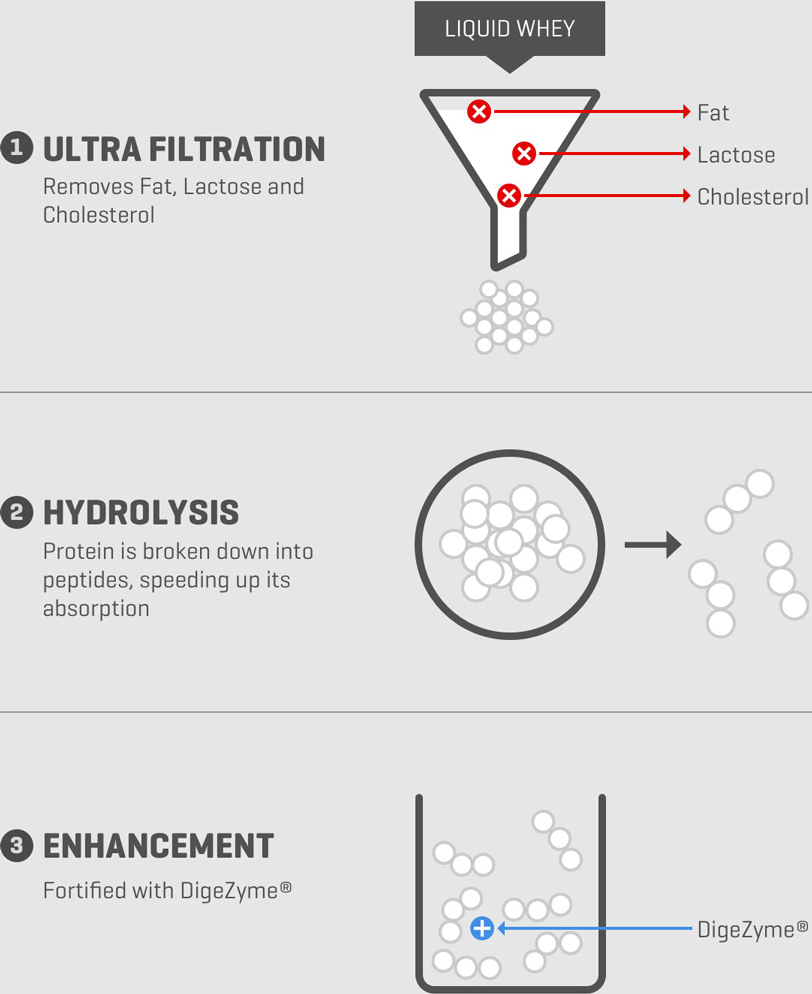 Fortified with Digezyme® Multi-Enzyme Complex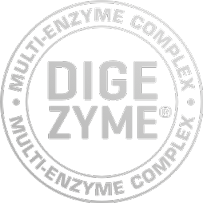 100% Whey Hydro Isolate leads the ranking for digestibility. It features the patented complex DigeZyme®, a blend of digestive enzymes that includes amylase, protease, cellulase, lactase and lipase.
These enzymes are resistant to gastric juices, helping break down protein during digestion and thus enhancing their utilization by your body, and ultimately by your muscles.
Plus, easier digestion will keep bloating at bay and reduce other gastrointestinal problems commonly associated with whey protein intake.
More gains? New tastes!
We've thought out every single detail for our protein formulas. Flavor is definitely one of them. We gathered the best flavor development specialists to take our already delicious flavors to a whole new level.
So now, not only will you be fueling your gains with premium whey protein, you will also be truly enjoying every sip of your shake. And the best part is that you can enjoy the most mouth-watering flavor combinations with no added sugars or aspartame.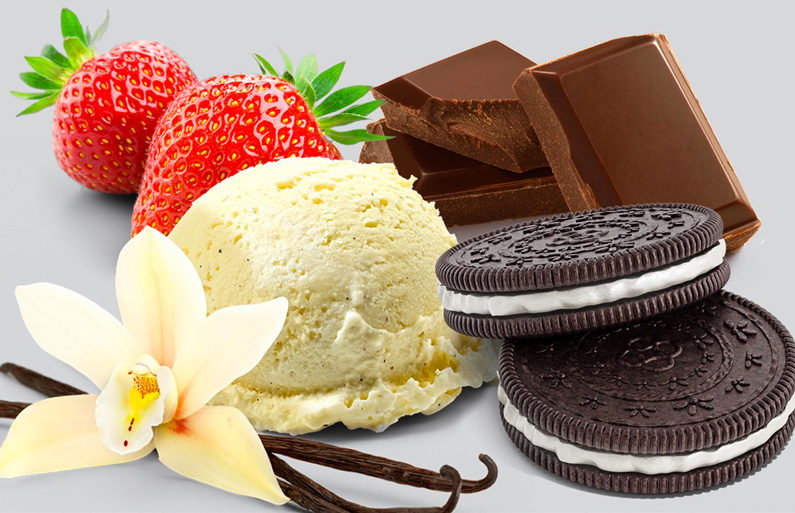 Pure and simple
No aspartame
No artificial colorings
No added sugars
Only Whey protein
No preservatives
No added amino acids
Exceptionally bioavailable protein source
Unlike other protein powders, which blend several different protein sources in their formulas, 100% Whey Hydro Isolate provides only the most bioavailable protein source: whey protein.
Biological value of protein sources
| PROTEIN SOURCE | BV | PDAAs | BCAAs | iXPB |
| --- | --- | --- | --- | --- |
| Hydrolyzed Whey Protein Isolate | 104 | 1 | 23% | ✓ |
| Whey Protein Isolate | 104 | 1 | 23% | ✓ |
| Whey Protein Concentrate | 104 | 1 | 22% | ✓ |
| Egg Albumin | 100 | 1 | 20% | ✗ |
| Milk Protein Isolate | 91 | 1 | 20% | ✗ |
| Micellar Casein | 77 | 1 | 21% | ✗ |
| Soy Protein | 74 | 1 | 17% | ✗ |
| Brown Rice Protein | 70 | 0.47 | 19% | ✗ |
| Wheat Protein | 64 | 0.25 | 15% | ✗ |
* Adapted from: Hoffman, J. R.; Falvo, M. J. (2004). PROTEIN - WHICH IS BEST?. Journal of Sports Science and Medicine. 3, 118-130.
* Images presented are merely for illustrative and promotional purposes only. The product's final image may be altered.
Please log in to continue!