Prozis
Creatine Creapure® 300 g
Seeking to exceed yourself? Prozis Creatine Creapure® is ideal to increase performance in strength sports and intense short-term exercise. Get in the game!
Description
Comments (4201)
Best before end:
2021-11-30
Serving size:
4 level scoop(s) (3.1 g)
Servings per container:
96
* Reference intake of an average adult (8400 kJ/ 2000 kcal).
** Reference intake not established.

Recommended Daily Portion: Take 1 serving per day. Instructions: Add 4 level scoops (3.1g) to 200-250mL of water. Scoop inside container.
Food supplement. With sweeteners. May contain traces of milk, soy, egg and gluten.
Warnings:
Due to its creatine content, this product is to be taken by adults only. Do not use while pregnant. The beneficial effect can be obtained with a daily intake of 3 g of creatine. This product is intended for adults performing high-intensity exercise. Make sure to drink ample amounts of water while using a creatine supplement to avoid dehydration. Do not exceed the Recommended Daily Portion. This product should not replace a varied and balanced diet and a healthy lifestyle. Keep out of reach of children. Store tightly sealed in the original packaging in a cool, dry place, avoiding direct sunlight.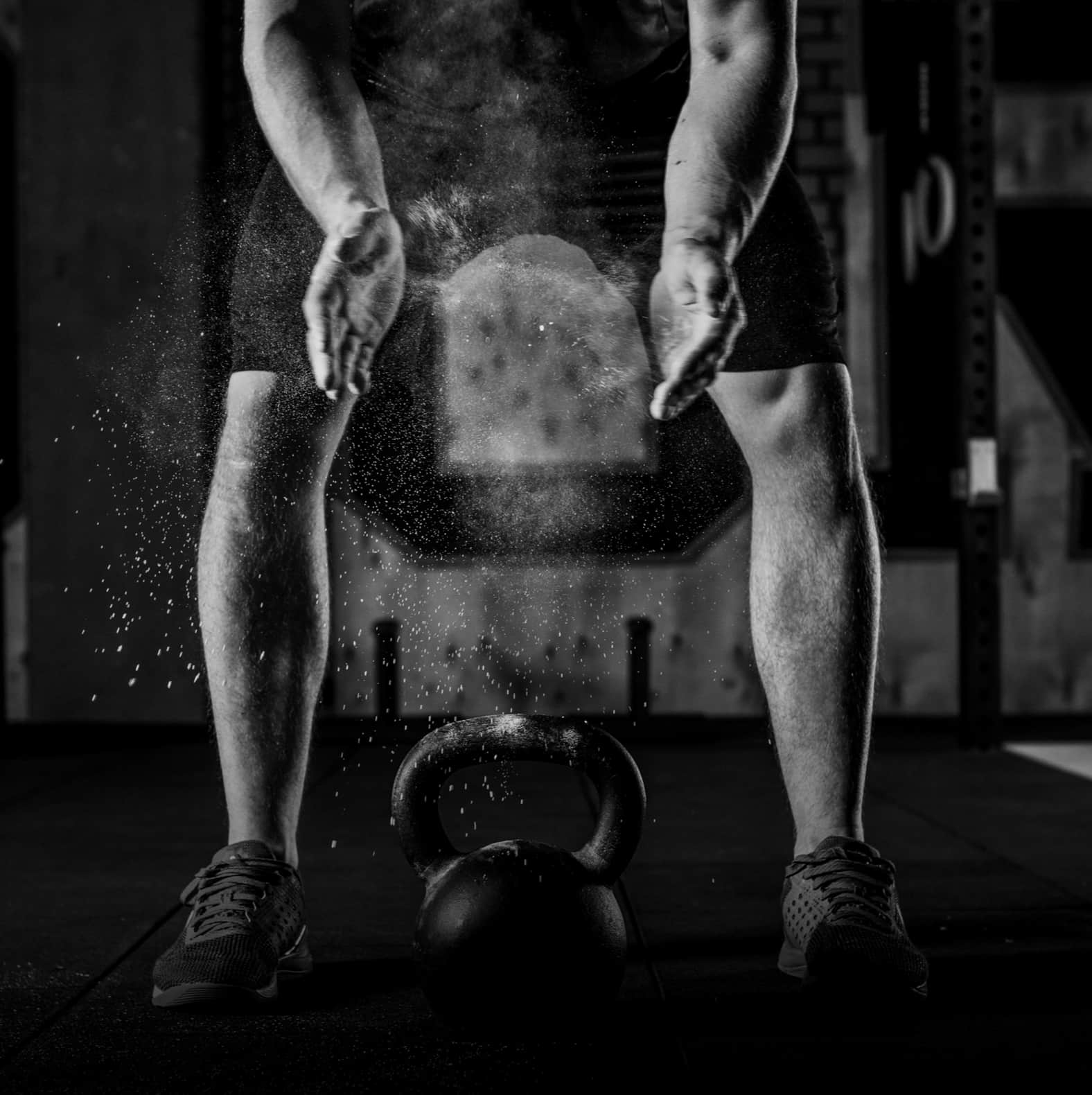 Pure to be sure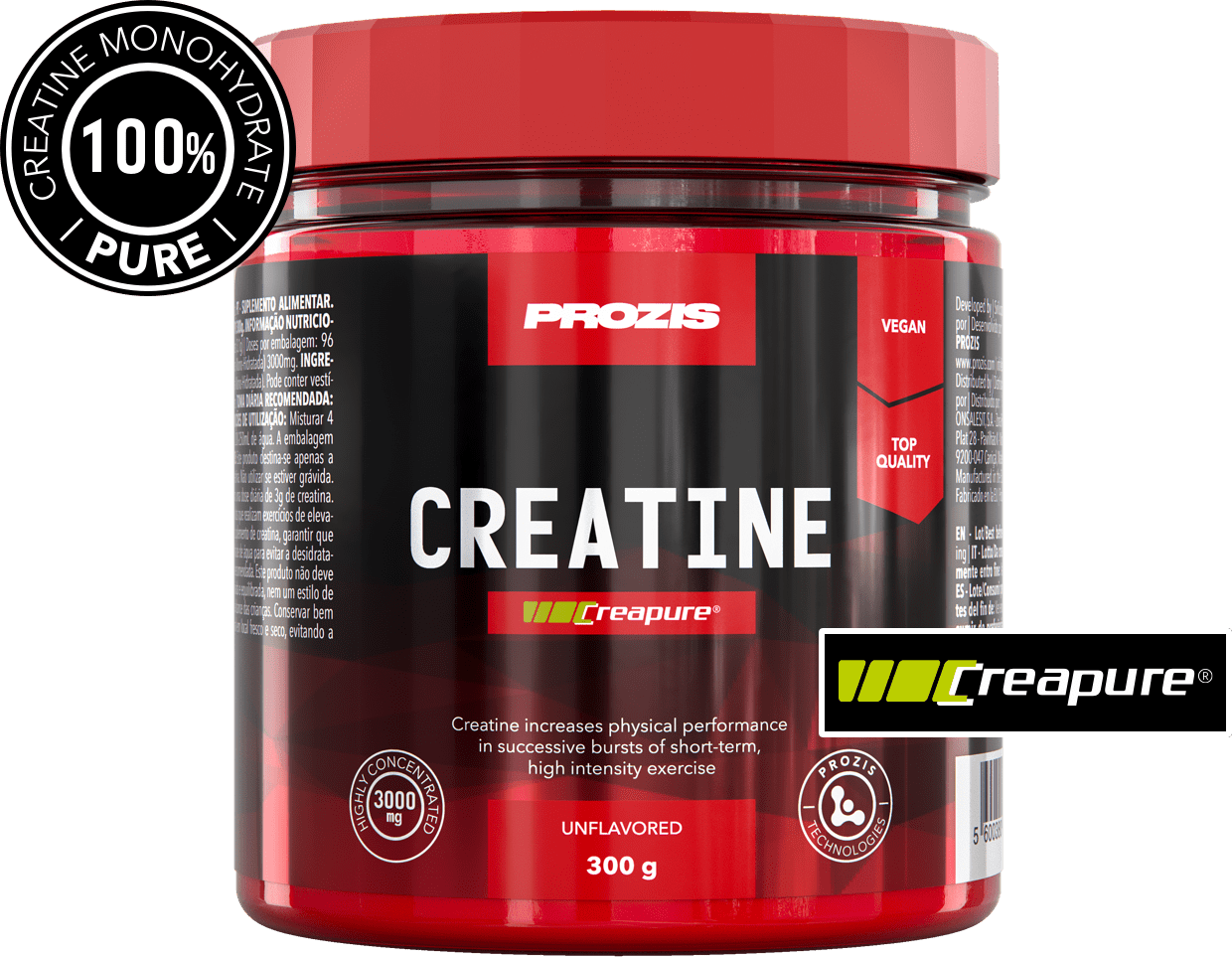 100% Pure Creatine Monohydrate
For High-Intensity Sports
Fast and Complete Absorption
All the power you need for high-intensity physical activity
Pure and simple: ask athletes who are into strength and power sports, and they will all tell you that creatine turned the world of sports upside down. Over time, science has proven that creatine meets all the criteria to be considered a safe and extremely valuable supplement, provided it is taken properly.
Creatine Creapure® by Prozis features premium quality creatine monohydrate for those who don't settle for anything less than the best performance and the best results!
Give it your all
During your short, explosive training sessions and high-intensity exercises, give it your all with Prozis creatine Creapure®. It might very well be the perfect supplement for you!
Activities that involve jumping, sprinting or cycling can benefit a great deal from Prozis Creatine Creapure® – it can act through a number of possible mechanisms as a potential ergogenic aid that is most effective in activities that involve repeated, short bouts of high-intensity physical activity.
Among the boldest athletes, creatine is nothing short of an invaluable resource!
Get to know Creatine
Creatine is an organic, endogenously-produced acid that is derived from 2 amino acids (glycine and L-arginine) and S-adenosyl-L-methionine, and that is of great importance to the body. It's synthesized in the liver and kidneys, and from there it's carried to the cells throughout the entire body.
All The Power
Essentially, creatine is a fuel source for Adenosine Triphosphate (ATP), a chemical that the body uses as an energy source for short bursts of explosive power. Whenever the body uses energy to achieve such an effect, ATP is the source behind it. Intense physical activity causes ATP to release one of its three phosphate groups to power muscle contraction.
TAKE BEFORE a workout Lab-tested
Backed by quality certificates issued by independent testing labs, the composition of Creatine Creapure® hides no secrets from you.
Creapure®
Using Creapure®, a leading brand of creatine monohydrate produced in Germany from the best raw material and according to the highest quality standards, Prozis created Creatine Creapure®, a pure single-ingredient creatine supplement for athletes without any of the extra ingredients so many brands use only as fillers. Prozis Creatine Creapure® provides 3000 mg of the cleanest and most effective creatine form per serving in a convenient and affordable way.
Prozis Creatine Creapure® highlights:
Patented Creapure® formula
Ideal for power-based sports
Enhances performance in short, successive bouts of high-intensity exercise
Pure, single-ingredient creatine monohydrate formula
* Images presented are merely for illustrative and promotional purposes only. The product's final image may be altered.
Please log in to continue!