Creatine Creapure® 80 tabs
Combining science and innovation, Prozis Creatine Creapure® is the ideal choice for those looking to maximise their physical potential, playing an important role in the synthesis of ATP.
Description
Comments (1159)
Best before end:
2022-02-28
Serving size:
4 tablet(s)
Servings per container:
20
* Reference intake of an average adult (8400 kJ/ 2000 kcal).
** Reference intake not established.

Recommended Daily Portion: Take 4 tablets throughout the day with food.
Food supplement.
Warnings:
The beneficial effect can be obtained with a daily intake of 3 g of creatine. This product is intended for adults performing high-intensity exercise. Make sure to drink ample amounts of water while using a creatine supplement to avoid dehydration. Due to its creatine content, this product is to be taken by adults only. Do not use while pregnant. Do not exceed the Recommended Daily Portion. This product should not replace a varied and balanced diet and a healthy lifestyle. Keep out of reach of children. Store tightly sealed in the original packaging in a cool, dry place, avoiding direct sunlight.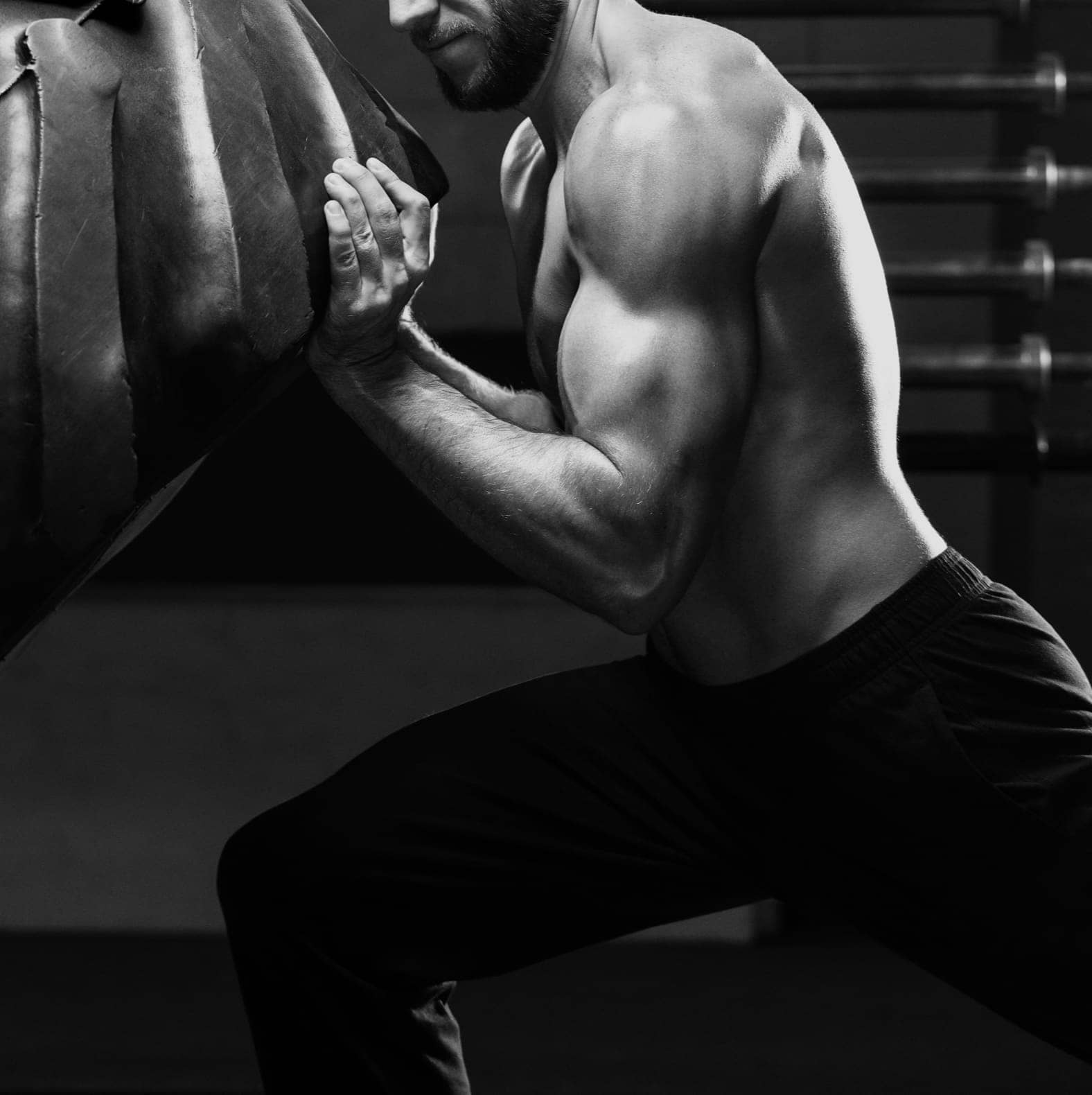 The purest form to reach higher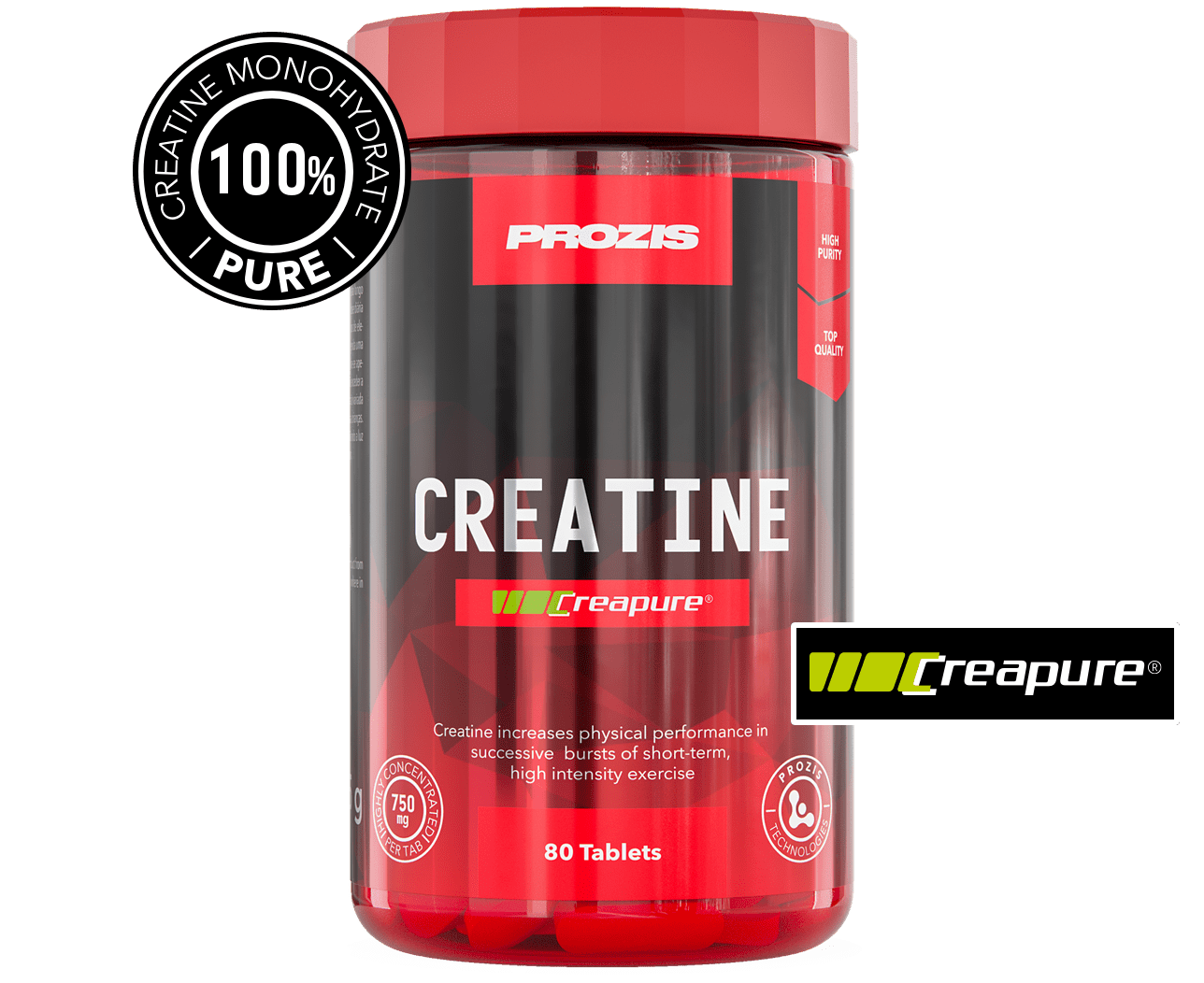 All the power you need for high-intensity physical activity
You have just found the ideal supplement, which will not let you down when it comes to improving your physical performance! Due to the large volume of scientific literature dealing with its supplementation, creatine is a very popular choice among athletes everywhere. Creatine Creapure® by Prozis features premium quality creatine monohydrate for those who don't settle for anything less than the best performance and the best results!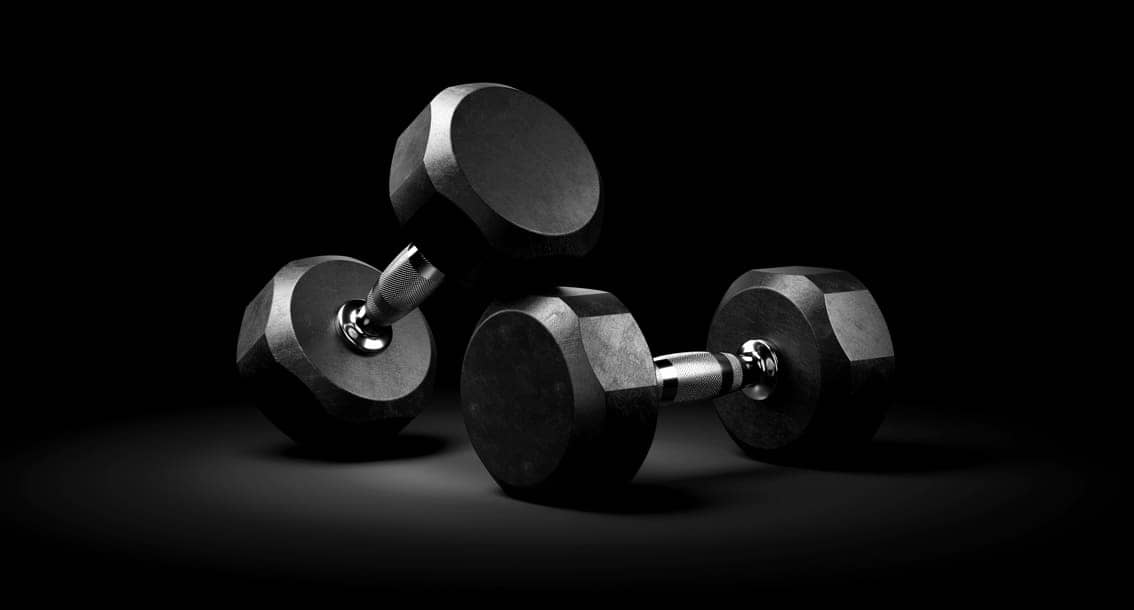 Get to know Creatine
Creatine is an amino acid produced in the body that plays an important role in ATP replenishment and is involved in processes such as muscle contraction. This amino acid is synthesized in multiple steps, which essentially take place in the kidneys and the liver. From there it is carried to the different tissues in the body.
Creapure®
Combining science and innovation, Prozis Creatine Creapure® is the ideal choice for those who are looking to maximize their physical potential. It provides a potent dose of the purest creatine monohydrate per serving in easy-to-take tablets. Besides, this food supplement was formulated with Creapure®, recognized as the highest quality creatine in the world. Creapure® is produced in Germany from the best raw material, and controlled by the strictest quality control processes and chemical analyses to ensure a faster and complete absorption of each milligram of ingested creatine monohydrate.
True sports nutrition
According to the International Society of Sports Nutrition*...
• Creatine monohydrate is the most effective ergogenic nutritional supplement for increasing high-intensity exercise capacity and lean body mass during training.
• Creatine monohydrate is the most extensively studied and clinically effective form of creatine.
Creatine may have ergogenic benefits such as:
• Increased single and repetitive sprint performance
• Increased work performed during sets of maximal effort muscle contractions
• Greater muscle mass and strength adaptations during training
• Increased anaerobic threshold
• Greater aerobic capacity
• Enhanced recovery
• Greater training tolerance
Such effects can be of interest to people in all kinds of sports, such as sprinting, basketball, swimming, combat sports, tennis, interval training, bodybuilding, powerlifting, weightlifting, rugby and track/field sports.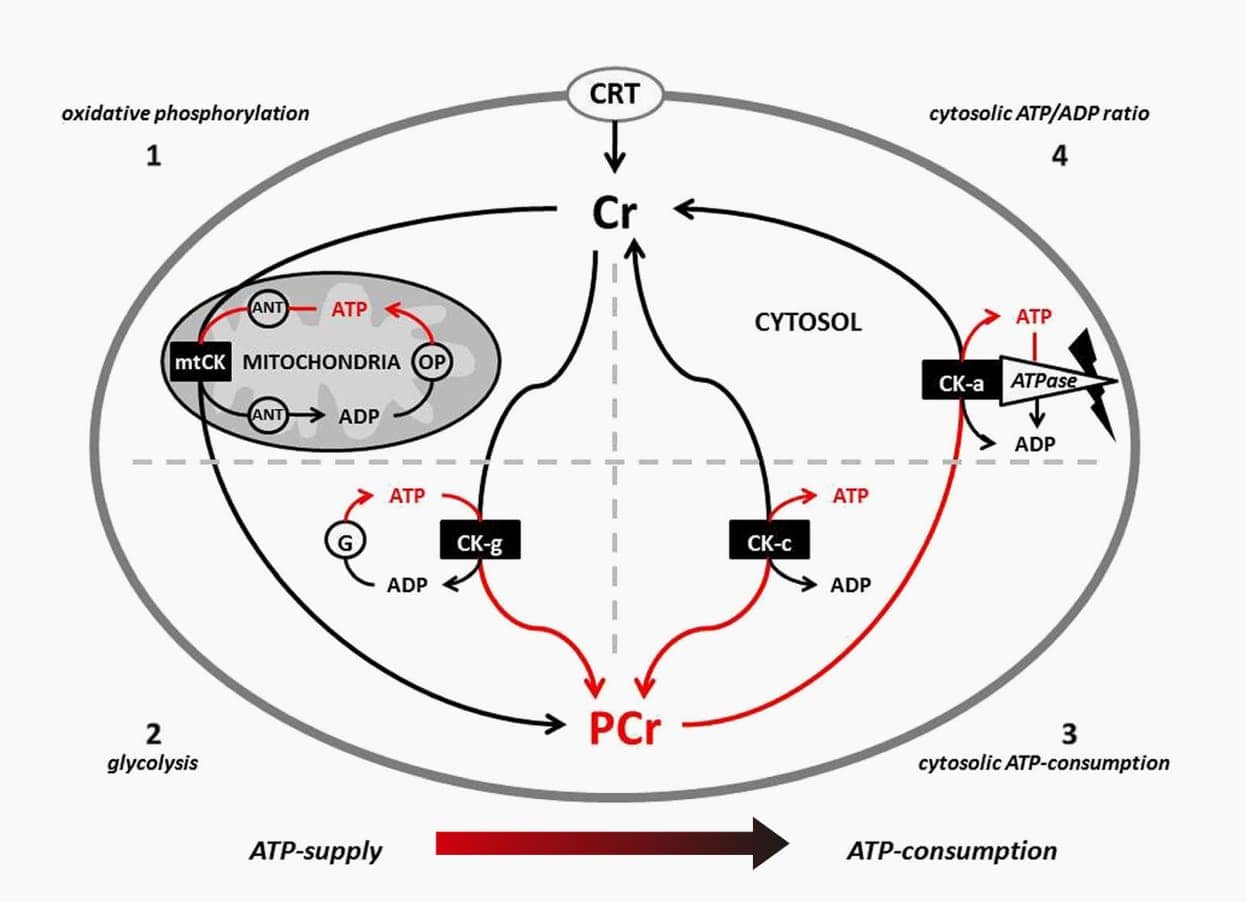 Creatine (methylguanidine-acetic acid) is a compound derived from the aminoacids methionine, glycine and arginine, stored primarily in skeletal muscle. About 60–65% of this creatine is phosphorylated and it is this phosphocreatine (PCr) that provides a rapid but brief source of phosphate for the resynthesis of adenosine triphosphate (ATP) during maximal exercise.
* Source: adapted from Kreider et al. "International Society of Sports Nutrition position stand: safety and efficacy of creatine supplementation in exercise, sport and medicine" J Int Soc Sports Nutr., 2017 14:18 Crea-tivity
Every day is a good day to work on reaching your goals! When taking on your daily challenges, give more of yourself during your short, explosive training and high-intensity exercise.
Prozis Creatine Creapure® can be the perfect supplement for you!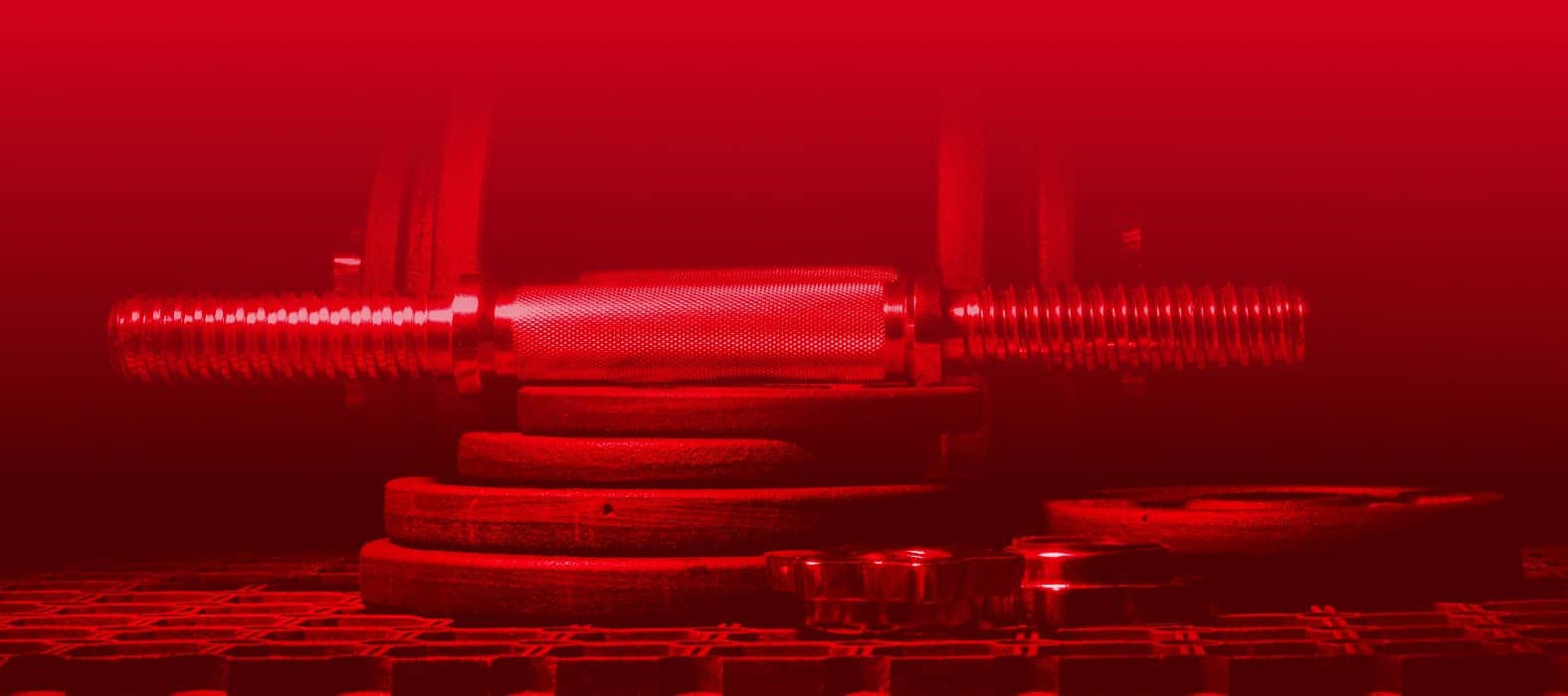 Prozis Creatine Creapure® highlights:
• 100% Creapure® creatine monohydrate
• Patented formula
• High bioavailability
• Plays a role in ATP synthesis
• Enhances physical performance
• Ideal for strength-based sports
* Images presented are merely for illustrative and promotional purposes only. The product's final image may be altered.
Please log in to continue!